CANVASWORK - SCISSORS AND TOOL HOLDERS

We all have the tools of our trade, items like scissors, needles, laying tools, counting
pins, rulers, tape measures, and magnets to name a few. Some we purchase with the

idea we will never use them because they are too good and too beautiful to use. Others

are like work horses and are always being handled.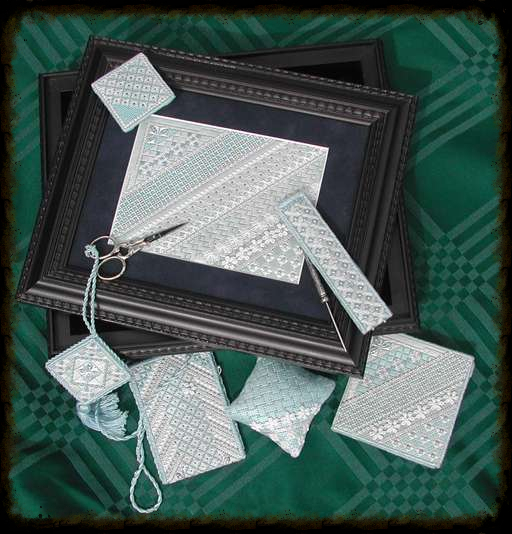 CRYSTAL WATERS
This elegant, seven-piece ensemble
consists of a needle case,

pincushion, tekobari holder, scissor

sheath, scissor fob, magnet-cover

and box top. All pieces are worked

on #18 Mono canvas. A wide

selection of fibres, beads, crystals

and lace adorn this ensemble. This
course features twenty stitches for a

delightful textural effect, and easy to

read master charts, diagrams and

instructions for you to follow.

Techniques include layering stitches,

couching, layered techniques and

attaching objects. Attention is given

to finishing techniques including the

binding stitch and making cording

with beads.
It is written to include the

aquamarine colourway.
Proficiency: Intermediate to Advanced
Suggested Retail Price: $42.00
This is the design featured in the header

on this page.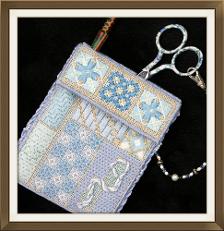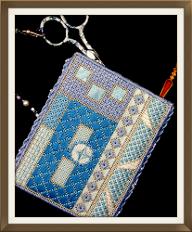 POCKET WITH A VIEW
Inspired by Stained Glass, this
pocket is for scissors, laying tool,
and needle keep. Using floss, #8

Perle Cotton and Kreinik threads,
learn a variety of stitches.

It is made all in one piece and folded
into shape and joined together!

Finishing instructions are included.
This is my workhorse!! I have made
two and it is time to make a third.
They make great gifts for your
stitching friends!!
Stitch it in your favour colours!!

Proficiency: Intermediate to Advanced
Suggested Retail Price: $16.00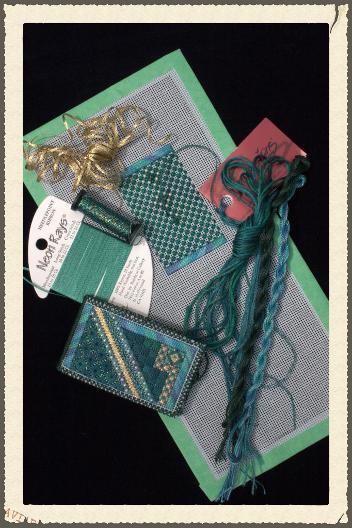 ENCHANTMENT
This delightful little design is ideal for
scissors, ruler or it can be made into a

needlebook.
It requires seven different fibres as shown,

plus Swarovski crystals. Stitches include:

Flat, Eyelet, Rice, Waffle, Diagonal,

Upright Cross, Double Straight Cross and

Trellis work.

It is worked all as one piece. The picture
shows the front as the completed piece

and the back as the piece being stitched.

This course is ideal for guilds.

Proficiency: Intermediate

Suggested Retail Price: $15.00