STITCHER'S GALLERY - MY WAY
On this page, view all the beautiful designs of MY WAY that my clients have completed in
their delightful ways. If you have completed MY WAY and would like to share it, please
send me a ."jpg" format with your permission to have it posted. Please include
comments on how you changed the design using different colours, fibres or stitches to
make it your own. Many have won a prize at their local or state fairs. Please share your
joy! This design is now available from your local needlework store.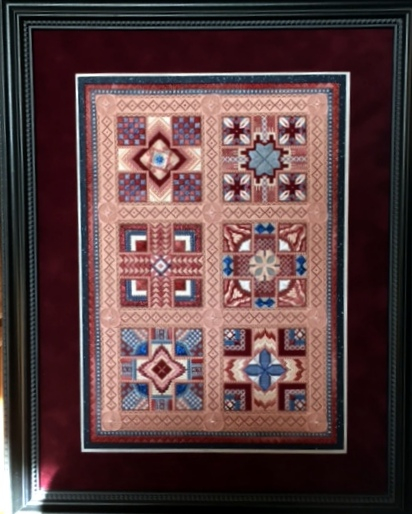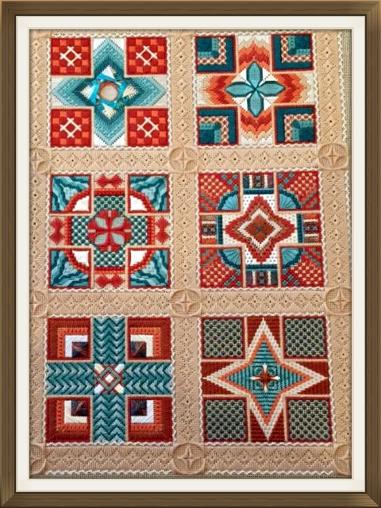 Leigh has stitched MY WAY in

soft pretty desert sand colours with blue

accents. She has added a few personal

stitches to the design and note that she

has added two extra rows around the

outside border creating more interest,

drawing your eye into the design.


Note how well her matting choice is that

includes a narrow dark blue mat and the

framing accents both the stitching and

design.


WAY TO GO LEIGH!!


Above, Marjorie has completed MY

WAY in time to celebrate 2017!


A delightful blend of corals and

aquas makes each of the designs

pop and stand on their own as well

as being part of an overall group.

.
You can see the fine stitching she

has done in each of her squares!


I look forward to seeing more pieces

from you Marjorie!!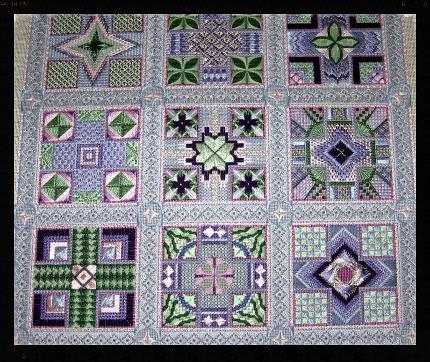 Denise did MY WAY in gentle
mauves, offering a relaxing view.
She also added three more squares
creating more interesting designs to
the overall pattern.
Two of these squares are her own

designs and that is not an easy feat
to create.

You did a wonderful job, Denise!!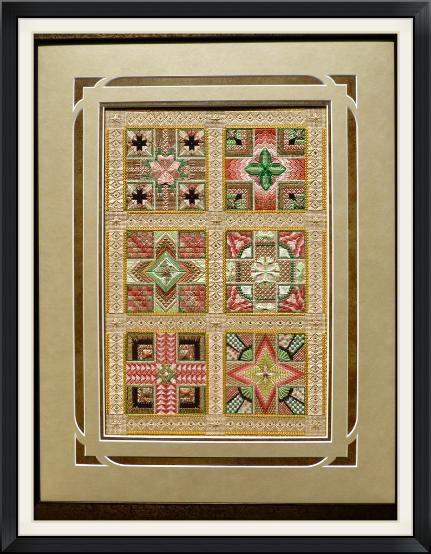 I love the soft melon colours Jennifer

has chosen for MY WAY and the fact that

it is hanging lenghtwise. It is an

excellent piece in an enterance foyer

or hallway to welcome guests.


The matting and framing offers an

elegant presentation and

complements the stitching, colour,

and design.


It is important that your framer

keeps in mind that it is the stitching

that is the focal point. The framing

should always complement your

work. This is an excellent example

of a frame doing just that, making

your work look superb!!

Rinda has finished
MY WAY
which she
started in September 2014. It was a cyber
class sponsered by CYBERPOINTERS
which is the virtual guild with ANG. This
course was six months long.

I love your colour blend in this design!!
Rinda,I hope you plan on entering it into

this year's State Fair!! I see Ribbons in
your future!!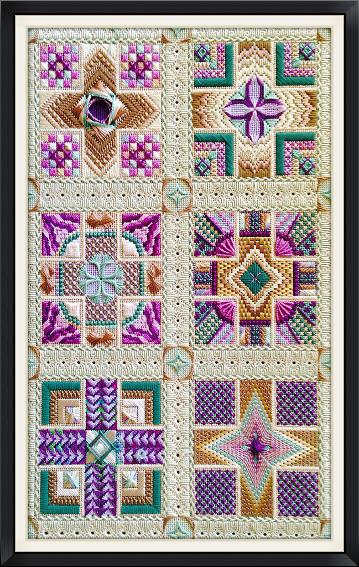 Margaret, you did beautiful job of stitching MY WAY in the pretty corals, greens, and

mauves with sand accents! I just love the colour blends people have put into this design.

This way everyone makes it personally their own, to fit into their homes!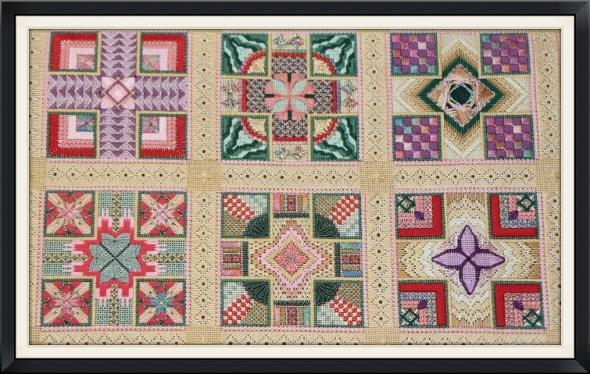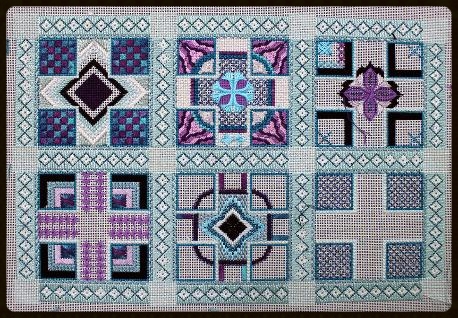 Three friends often attend my classes in

the Toronto area and last year they did

MY WAY together with a few others at

Gitta's.


Lalito is the youngest in the group and

has young children, so unfortunately she

fell behind.


Her stitching features rich blue and mauve

hues. She truly does not have that much

more to do before it is complete just like

her friends and she knows they will

support her.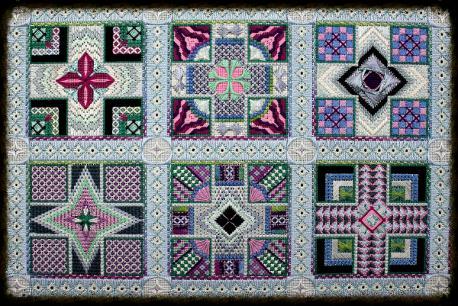 When Patsy and her friends met up with me

this year they were so proud to show me

their completed pieces of MY WAY. Patsy

found the idea of having to make many

choices a bit unsettling. However, with help

from me and encouragement from each of

her friends the results are Impressive

indeed!

Keep up the good work and I hope you

keep stitching more!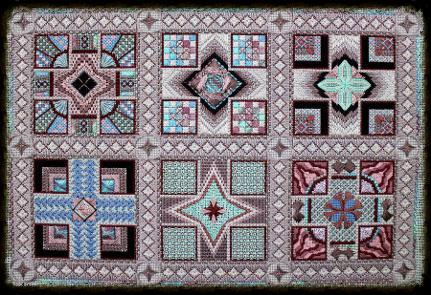 Debbie, did MY WAY in shades of pink

with touches of blue and taupe. So

Gorgeous!!

I have many students who come to class

as friends and have a wonderful time in a

learning environment. Some come alone

and make new friends for life. Stitching

has a way of joining people together.