WHERE WILL I BE TEACHING AND WHEN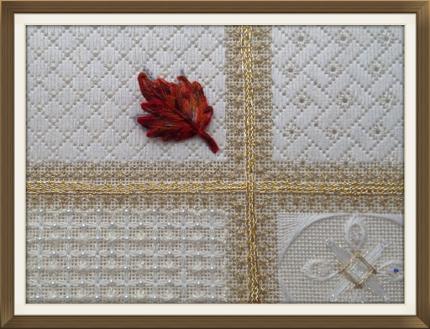 FIRST SNOW

This intriguing design is being offered as a WORKSHOP BY MAIL project by ANG from February 1, 2017 to May 31st, 2017.

Registration is with ANG
The first snow falls overnight, and in the morning it looks like a gift to us, so pure, so white and sparkling in the sun. The ground cover, #18 Mono Canvas Eggshell, has been enhanced with delightful stitches such as Star, Flat, Waffles, Eyelets and Tear drops. Threads include: 3/8" gold trim, #8 and #12 Braid, and floss in cotton or silk options. For extra sparkle there are white beads and crystals.

The pretty leaf is shown in Stumpwork, however instructions for Crewel or Basketweave are included. Pure beauty wrapped in a parcel just for the viewer!

Proficiency level: Intermediate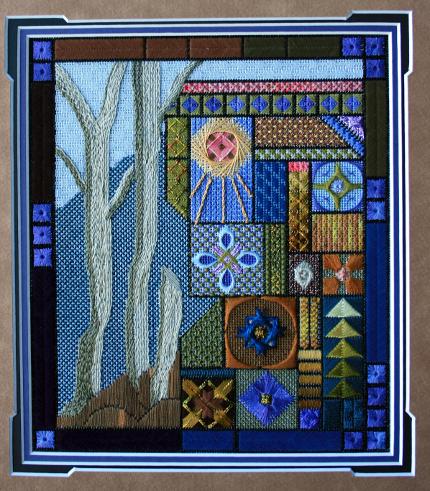 ON THE EDGE


This exciting piece of needlework is being offered as an:

ANG Cyber Class from September 1, 2017 to February 1st, 2018
Registration is May 1st to June 30th, 2017

I am looking forward to having you in my class

This is my vision of mans is encroaching on nature. Each year we cut down more trees, rearrange the earth to make way for buildings and highways for ourselves. I therefore, decided to use two of my favourite artists Lawren Harris, and Frank Lloyd Wright to express my feelings. For the barren landscape that deals with the everyday life that nature offers. I used Perle Cotton and floss, the basics of our embroidery supplies. However, for the human appetite of manmade beauty, I used a variety of threads in silk, cotton and metallic, in a large colour range. Here I used a wide variety of stitches to offset the starkness of the barren landscape, which I often see as we travel along the highways in northern Ontario.
I wanted the border to be simple like the rugged landscape of our country; but rich like the splendid buildings found in our cities. Petite Very Velvet offers both effects; deep, dark, and rich! The beauty of simple Eyelets stitched randomly in the border keeps the colours travelling from dark to light around the edge without distracting the inner message.
SIZE: 8" BY 9.25" MESH 140 BY 168 MESH on #18 Mono Canvas in French Blue

If you would like a kit, it is available from

A Stitching Shop
4444 Morrision Road
Denver, Colorado
80219-2446

PHONE: 303-727-8500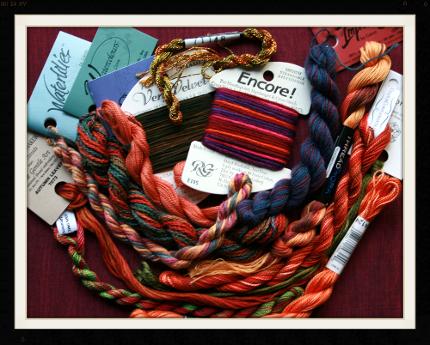 THEY ARE GORGOUS, BUT......
ONE DAY CLASS - Notebook


Come Join me at


WHEAT CITY EMBROIDERY GUILD

in BRANDON, MANITOBA

JULY 8TH, 2017

For more information please contact me.
Thank you


How do I work with overdye threads?
Are some overdyed theads better for backgrounds than others?
What stitches should I use when stitching with overdyed threads?
What is the advantage of one overdye from another overdye?
Come learn some of the solutions to these questions and more. Create your own personal notebook to place your samples.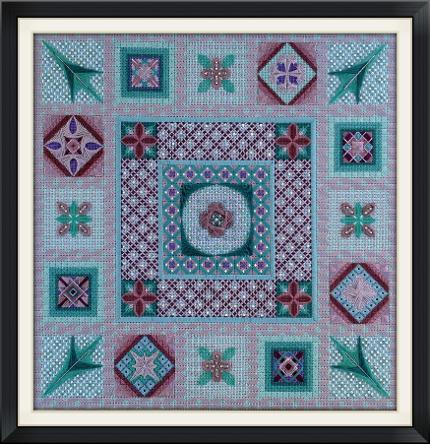 ELUSIVE DREAMS
This delightful design is being offered as a WORKSHOP BY MAIL project by ANG from

October 1st, 2017 to January 31, 2018.
Registration is with ANG
Elusive Dreams offers a blend of fibres, colours and stitches encrusted in cystals and beads.
Rich threads include: Impressions, Soie Cristale, Snow, Krenink #12 Braid, #5 and #8 Perle Cotton all worked on #18 Mono Canvas.
Stitches include: Cashmere, Rococo, Double Fan Doubled, Eyelets, Walneto, Crescent, Waffle, Rice, Flat, Milenese, Mosaic, Sprat's heads, and Trellis Work to name a few.
This is a mate for Tranquil Dreams