Carolyn Mitchell Designs
The heading above is a section from the design MY WAY
Welcome Everyone to Spring 2019!

At the moment in Quebec the waters have risen and causing grief for some of our friends.
The snow has melted quickly and the tulips and daffodils are pushing their heads above ground!

Some exciting news to share with you all. I have three designs included in three issues of

NEEDLEPOINT NOW. Check out the TEACHING SCHEDULE for magazine dates and pictures of

the designs that will be in each issue along with the instructions!

Earlier Information:

The canvaswork designs from my teaching portfolio are: Enchantment, Autumn Foliage,

Elusive Dreams, First Snow, and Mystique; are now available to everyone.
I have added to the Christmas Design section, NANCY'S NOEL which is now offered in book form.

I have added a NEW PAGE in the Client Gallery called Christmas Photos. Come see and read

how one stitcher decided to take the Gourmized Gem Collection in a totally different direction and
spiced it using hot colours!! View all the Student Gallery to see the new pictures of Have A Drink

On Me in cool colours!

Two Needlework Shops have been added to the Retail Listing In the United States. Welcome

North Carolina and California. Sheena's Gallery has reopened under new management in

Winnipeg, Manitoba. We all need to support our shops, as they are what keeps the industry alive.

PLEASE visit the RETAILERS section on my site to see if your favourite retailer is listed.

If not, mention to them that you would like to see my designs in their shop.
Happy Stitching Everyone,
Carolyn

HOLLY JOLLY CHRISTMAS
May the Joy of Christmas be in your Heart

All Year Long!!

I am having an issue getting this on line so
if you would like this design please email

me at:
twitchet@mts.net
and I will be happy to send you an email
copy that you can download.
It works up very quickly.
Merry Christmas!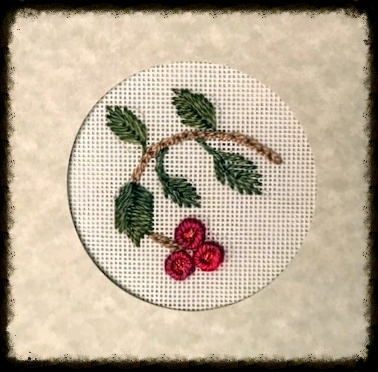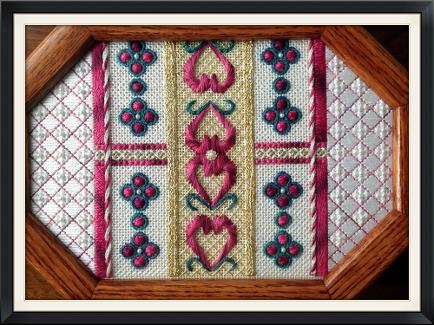 GONE BY DAYS
This lovely elongated octagon design is

perfect for this beautiful box.


Worked on #18 Mono canvas in Eggshell.

The threads consist of 12 ply Gloriana Silk,

Duchess Silk, 3/8" trim, #4 and #12 Braid,

Soie Cristale and bedecked with 2mm

pearls and a margerita crystal.


Stitches include: Jessica, Hungarian,

Double Straight Cross, Trellis, Rice,

Diagonal, Smyrna, Four-way Contintential,

Cording and Hearts. This was so much

FUN to do.




Book $20.00