Carolyn Mitchell Designs
The heading above is part of MY WAY
Welcome to my updated site.
Just a note to say I think I have my web site up to date now. I try to add new information as it
happens.
The new designs from my teaching portfolio are: Enchantment, Autumn Foliage, Elusive Dreams,
First Snow, and Mystique.
On the Teaching Design Page is On The Edge my new design from 2017.
I will be adding some new teaching dates as soon as they are confirmed.

Plus my free Christmas Card for 2018 will be posted soon.
Thank you all for your patience as I did this clean up and I hope it is easier for everyone to read.
Happy Stitching Everyone,
Carolyn

HOLLY JOLLY CHRISTMAS
Card for 2018 will be available at Seminar
2018 in PEI this July during Merchant's Night.

Kit $6.00
May the Joy of Christmas be in your Heart

All Year Long!!

Chart will be posted in the Free Christmas
Designs shortly.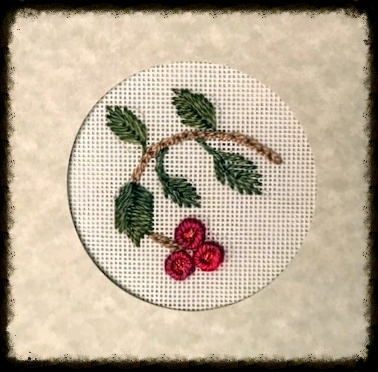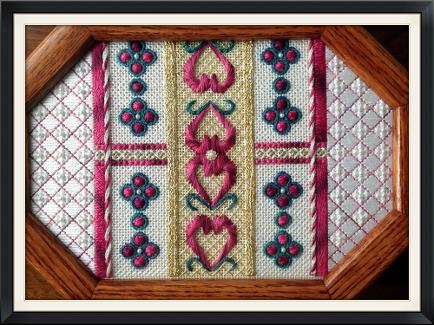 GONE BY DAYS
This lovely elongated octagon design is

perfect for this beautiful box.


Worked on #18 Mono canvas in Eggshell.

The threads consist of 12 ply Gloriana Silk,

Duchess Silk, 3/8" trim, #4 and #12 Braid,

Soie Cristale and bedecked with 2mm

pearls and a margerita crystal.


Stitches include: Jessicas, Hungarian,

Double Straight Cross, Trellis, Rice,

Diagonal, Smyrna, Four way Contintential,

Cording and Hearts. Thid was so much

FUN to do.


This design will not be available until June
2018. I have a group testing the instuctions
from Feburday to April. I will make a few
kits. and they will be available at Merchants
Night at the EAC Seminar 2018 in
Charlottetown, PEI. If you would like one to
be held for you, email me, so I can make
sure one is put away for you.
The gorgeous box was made by Ross
Burnett and you will be able to purchase it
at Seminar as well. He will have kits and
patterns at his table.
Kit and Book $85.00

Book $20.00